Through a Country Window
Inspiring stories from out where the sky springs free.
Chapter 1 – Gossip Central
"Security is mostly superstition.
It does not exist in nature.
Life is either a daring adventure or nothing."[i]
The chirp of a one tiny cricket woke me on the morning after our big move. Groggily I looked around. Piles of boxes, two and three deep, littered the room. Every muscle in my body ached. Stiff from sleeping on a mattress flung on the floor, I could tell by the sunlight dancing off the polished pine floors that we had overslept. Then I heard it again.
Poking Mary He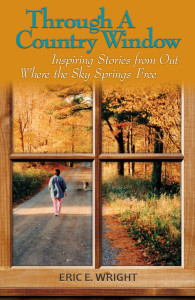 len, I whispered, "Did you hear that cricket?"
"Huh-h?" she yawned. "Whew! Glad you woke me. I was having a nightmare. Piles of boxes in a dirty warehouse. We couldn't find our way out!"
Mary Helen's dream adventures in the land of Morpheus are enough to fill book. This book, however, is about a different kind of dream. The dream of finding a log house on an acre or two of grass and trees in a country setting without going broke. The dream of exchanging streetlights for starlight. The dream of finding a place that would inspire the muse.
Helen Keller encourages us to choose adventure over security. A year earlier we had chosen adventure. But the shredding of all our carefully laid plans had sorely tested our resolve. With housing sales in the cellar, a succession of "For Sale" signs from an assortment of realtors yielded nothing but a procession of the curious who tracked dirt over our clean floors and poked in our closets. We couldn't move and expenses mounted. Fortunately, Mary Helen's craft business helped to keep us afloat. Customers clamoured for her designer baskets.
Although frustration often withered our hopes during that year-long wait, they kept reappearing like shoots on a willow stump. For one thing, a publisher expressed interest in a book I had just completed. For another, we frequently jumped in the car and headed for open country. Out there beyond the concrete, a view of forest-fringed fields and singing streams, beneath the immensity of the sky quickly restored our blighted hopes.
The chirp of the cricket broke through my reverie. Mary Helen heard it too, "Eric, there's a cricket in the bedroom! Get it!"
"I hear others answering from downstairs. Isn't this great. We're really in the country!"
"Are you crazy? Find it! I can't stand bugs in the bedroom!"
"Did we pack any insect spray?" I yawned as I groped for my slippers.
Tossing a magazine at the offending critter, she whispered, "No! Just get those bugs."
"First I need coffee. Where's the coffee maker?
"In the big box marked linens," she mumbled as she pulled the sheet over her head and drifted back to sleep.
At our bedroom door I stopped to glance down the hall toward the room with the skylights, where I would set up my office. Descending the stairs to the front door, I basked in the sunshine streaming through the front window before continuing down the staircase to the sunken main floor. Turning toward the kitchen I began my search. Dishes, pots, cutlery, and bags of groceries covered the kitchen counter. Paper plates and pizza boxes overflowing from a garbage bag were the only sign of the family and friends who had helped us move the day before.
I paused to gaze around at the honey-coloured log walls, the massive posts and beams holding up the thick pine planks of the upper floor, and the wood stove nestled in the corner. It was hard to believe I was not dreaming. But caffeine withdrawal soon brought me back to the task at hand.
"Why would anyone pack the coffee percolator in a box marked 'linens'? I grumbled as I manhandled boxes.
I finally found the percolator in with the pillowcases, but where, oh where had Mary Helen hidden the coffee? It was 15 miles to the nearest supermarket. A lingering worry skated around the edge of my mind. We were a long way from the city and all our friends. We didn't know our neighbours. And by this time I heard crickets chirping from the laundry room, the living room, and from under the pile of furniture in the corner of the dining room. What had we done? Had we invested in a cricket condo?
"We must've been crazy to move into a house in the middle of nowhere," I mumbled.
Obviously, I needed some java. Returning upstairs, I struggled into my pants and woke Mary Helen up again to tell her, "There's no coffee, but I'll see if that little store in the village has any."
"Eggs too," she groaned rather incoherently.
As we quickly discovered, every respectable village must have a general store. Garden Hill's sits on the south side of the county road, across from a barnyard and some fields that encircle the old church with its lofty steeple. Driving up, I negotiated a space in the midst of a pack of pick-ups and four-by-fours that crowded the shoulder, signaling what counts as bustle in Garden Hill.
Asbestos shingles that were the rage in the late '40's camouflaged the two-story relic's scars. Four weathered timbers propped up a sagging porch roof. A brand-new steel door made the whole structure look like the cratered face of an old-timer with one gold tooth.
A sign swung in the breeze proudly proclaiming, Garden Hill General Store. To the right of the door an ice machine and a bank of army-green mail boxes leaned dejectedly against the wall. To the left, past the empty racks that had been used months ago to sell spring bedding plants, a shed full of cobwebs and debris leaned east. Bull Pen –Video Games, declared the sign over the missing door. The work of an earlier entrepreneur, the shed waited silently for its appointment with high-tech success. A shiny new phone booth sat, proud and aloof, in front of the store.
The windows on either side of the store's steel door told a livelier tale. Posters and notices plastered the lower third of the windows. A corn roast put on by the fire brigade. A craft show in Millbrook. A new play by the Fourth Line Theatre. A farm auction.
This artifact was not on the list of local tourist attractions. What slowed tourists barreling east to prime fishing on Rice Lake was not the speed limit. No, it was more likely kids cranky for ice cream and pop, or hungry for the fries available at the chip truck parked beside the store throughout the spring, summer, and fall.
To walk inside, however, was to be transported, like Alice through the looking glass, into another time and place. The tinkling of a bell signaled my entrance. A neighbouring farmer stood inside sipping coffee. He wore faded green coveralls and a red flannel shirt with the sleeves rolled up to reveal corded forearms. At six foot something his wrestler physique radiated brutal strength. Tufts of black hair stuck out from under a Co-op cap.
Sporting several day's stubble, Gary, the owner, was working the lottery terminal for a bullnecked farmer half a head shorter than the wrestler-prototype. Gary's eyebrows lifted expressively, up and down, up and down, as he emphasized a point. Something about a grass fire.
"Just about reached my barn," snorted a grizzled farmer in coveralls. "Another ten minutes and – poof!"
"Must a bin one uh those punks a hootin', and hollerin', in the park last night," retorted farmer-cum-wrestler as one hand bunched into a fist.  "They come barrellin' in here from the city with a case or two a booze and no sense."
"Real dry. No rain in weeks," responded a younger man draped over the counter. "Dangerous."
"Lucky it happened when the volunteers were at home," interjected Gary. "Bad news if it had caught when they were all at work."
I tried to catch the conversation without seeming to listen. I could feel them eyeing my stiff new jeans and discarding me as nouveau-country. Stifling my interest in the talk of a fire, I threaded my way past shelves of soup, beans, tuna and cereal. The worn boards creaked as I skirted the sagging trap-door in the floor to get at the cooler full of local brown eggs, butter, cheese, milk, and–strangely enough—Cool Whip.
Later I learned that Gary and his petite wife, Cathy, who takes her shift in the store, were not locals. When the fields around the village where they grew up disappeared before the juggernaut of "progress", Gary and Cathy bought the Garden Hill Store. They wanted their growing family to enjoy the wide-open space that they remembered as children.
Ten years later the store continues to be the centre of a communications network that beats Ma Bell and E-mail hands down. Gary has the answers. Where the deer are yarding–"south of Nine along Beaver Meadow Road;" why the fire-truck was up in Thomsville that last winter Saturday—"a bad snowmobile accident . . . one man with a bloody gash . . . ambulance got stuck . . . had to call the volunteer fire brigade for help;" What the man was doing with a shotgun and dogs along Trespass Road the other day—"either rabbits or coyotes. Been some coyotes around your place last winter."
From motor oil to mayonnaise, coffee to cold cuts, Gary carries whatever you need. One whole annex is chock-full of staples for evening entertainment; pop, chips, cheesies, and up-to-date videos. An old-fashioned cooler displays a few stalks of celery, green peppers, lettuce, some tomatoes, and an assortment of cold meats, including what I learned was a perennial favourite, pepperoni sticks.
Below a yellowing picture of the store in its heyday and one of Gary holding up a massive muskie, a rack displays a wide range of magazines. Another holds newspapers, reserved by name, for people from all over the area. Every available space on the bulletin board is plastered with business cards, announcements, requests for employment, notices of wood for sale, and even the offer of a foot nurse, whatever that might be.
As I headed toward the front with my eggs and coffee, I overheard Gary chatting with the farmer whose barn nearly caught fire. "Yeah, he was having a coffee when his beeper went off. Called all the other guys from here and got to your place fast."
"Sure glad it wasn't like last year when he responded to that chimney fire," Gary continued. "On the way to the fire, he lost control and drove that new engine into the ditch."
In a lull in the conversation I interjected, "Hi, I'm the new owner of the Austen place up on Trespass Road. Would you have any insect spray?"
To my astonishment Gary responded, "You're Mr. Wright aren't you? I deliver the mail; that's why I know your name. Over there on the top shelf."
We learned later that, until the store developed a strong clientele, Gary moonlighted from time to time. During our first few years, he had the contract to deliver mail. Snow, sleet, rain, hail, ice, fog—no problem, he came through. Then someone outbid his tender. It must have become hard to feed his growing family on the profit from the store although lottery tickets and cigarettes probably helped.
A few years ago, Gary dug up the registry files going back to 1858 when Garden Hill had three water-driven mills. His commemorative mugs, featuring the store, show him as the 18th owner to continue "its tradition of serving the community." Beside the mugs, T-shirts advertise, "University of Garden Hill." Not a bad caption—country wisdom is not to be scorned.
In 1935 the original store and several surrounding houses burned to the ground when a neighbour with electric lights spilled gas on his hot generator. Could there be something symbolic in the fact that I was born in the year the store burned?
In the city, I never quite got into the convenience store scene. Those who ran the ones in our neighbourhood seemed more interested in my wallet than my family. They were community stores with little sense of community. The Garden Hill store is different. It's an institution, an integral part of village social life, part of a vibrant rural community. People stop as much to sip coffee and gossip as to buy. They know each other's names and a whole lot more: who just had a baby; whose grandfather needs an operation; the score of the local ball team; the six-point buck that crossed the road near highway 28; where to find a good electrician.
Over the years we've come to rely on Gary. "Gary, what's a good spy video?" Often as not, he'd recommend a winner. "Gary, do you have any paraffin wax? We ran out in the middle of canning?" "Sure. Down the aisle on the left, bottom shelf, near the back." "Gary, do you have any two-stroke engine oil for my lawnmower?" '"Right by the window." "Gary, do you know anyone who can repair a microwave?" "Try that fix-it shop in town."
This is no flashy supermarket, no multi-national money-maker—but it is a focal point of community life. And a sense of community is one of the most attractive features of living in the country.
There is "a growing sense of longing in society, . . .
not so much a longing for what was as it is for what could be.
It is, in essence, a longing for community."[ii]
—————-
"To some people, community is a feeling,
to some people, it's relationships,
to some people it's a place,
to some people it's an institution.
[But I prefer to define it as] a place where people prevail."[iii]
---