Inspiring Stories From Out Where the Sky Springs Free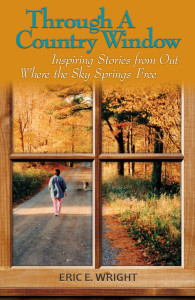 What happens when a farm girl from South Carolina and a city boy from Toronto trade their suburban split-level for a log house in the country?
Besides crazy craft on the Ganaraska River and live theatre in a barnyard, Eric and Mary Helen Wright discover crickets in the bedroom, thunder on the ridges, and romance in a snowstorm. They also rediscover the creative majesty of God, and much more.
Table of Contents:
Gossip Central
Backyard Ballet
Country Carousel
Sumach Thanksgiving
Indian Summer
Where the Sky Springs Free
Cattlemen Prefer Blondes
Wildflower Week
Snowbound
Red Flag Flu
Techno Robin
Hallelujah Hill
Where God Rakes Leaves
Trauma On Trespass Road
Great Southern Gooseway
Reviews of Through A Country Window:
"I enjoyed this book enormously. His enchanting journey unfolds as he and his wife discover the never-ending wonders of rural life at all seasons. Joyful, wistful, and often funny, this is a book to delight the reader." Claire Mowat, author of The Outport People
"Through a Country Window is a delightful journey down roads seldom explored these days… Eric Wright takes us on the vacation of a lifetime filling it with gentle reminders of the joy of simplicity and the power of faith. My only complaint is that the vacation ends too soon!" Phil Callaway, author of Making Life Rich Without Any Money
"Lyrical and affectionate, with a wry wonder at Nature's gifts and human nature." Ron Wright, author of Time Among the Maya
"Be warned that Eric Wright's enthusiasm for the country is infectious, and Through a Country Window may make you want to head down country roads of your own." Maxine Hancock, author of Love Knows No Difference: Learning to Give & Receive
"A gentle read for gentle readers… Through a Country Window traces the pilgrim's progress of Eric and his wife, Mary Helen, as they move through their first years in a wood-heated log house… The author explores everything from Ganny [river] racing to gardening, from gastronomy to godliness, his spirituality continually reinforced by the evidence of his senses… A charmingly told tale of the quality of life that is possible when one surrenders to the charm and power of the elements, and takes the time to find the simple goodness in one's neighbours."
Eileen Argyris, Northumberland author
"Eric Wright describes… experiences that will resonate with all who love country life, whether they live in the Smokies east of Knoxville or in the Yorkshire Dales north of London… Wright's observant eye to both nature and country culture, combined with his characteristically down-to-earth writing, makes for entertaining reading with a devotional quality… I highly recommend it." Francis Kyle,  author of The Evangelical Baptist
One Response to Through a Country Window