Inspiration for Life's Journey From Out Where the Sky Springs Free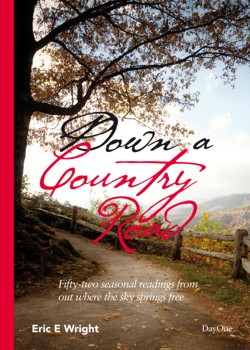 Devotional thoughts for each of the four seasons.
Life principles that God illustrates in the created universe around us.
God has revealed himself in two books: the created universe which displays God's power, wisdom and glory, and the Bible which reveals the fullness of God's will for mankind.
In Down a Country Road, Eric Wright draws from his love for Nature and the countryside to bring these two books together. He follows the pattern of Jesus Christ, who used salt and light, trees and flowers, weather and sheep to illustrate biblical principles.
These 52 weekly readings follow the seasons and bring together observations on Nature with reflection on biblical truths.
Snow and stones, animals and autumn, light and leaves, waves and weeds—along with many other aspects of country life—open windows of insight into eternal realities.
Some chapter headings:
Partridge in a Pear Tree – The Winter Blues
Neatness Wars – Human Homing Instinct?
Gathering Stones – Miracle of a Leaf
Waves – Crows in Convention
Farmer Ants – Birdsong
Facing a Hurricane – Woodpecker Wounds
Message of the Mountains – Trees for Tomorrow
Winter Rainbow – First Snow
What Reviewers and Readers are Saying:
"God speaks to us in the storm, but more often in the ordinary of every day. Thankfully Eric Wright has been listening. This book is a delightful journey down a road seldom traveled anymore, a road where the simple is profound, where the extraordinary is commonplace, where the most urgent thing we need to do is stop, hear God's voice, and listen." Phil Callaway, author, humourist
"Reading through the pages you feel like you are in the country. You can hear the country sounds… breathe the unpolluted country air… walk across the green country fields. And you experience peace!" Timothy Starr, pastor to seniors, Peoples Church, Toronto
"Eric Wright… brings God's two books of revelation together in fifty-two superbly crafted seasonal readings. Down a Country Road does for 21st century readers what Jesus did for 1st century listeners – illustrate and reinforce spiritual truth by observing the surrounding creation. Just as Jesus used "salt and light, trees and flowers, weather and sheep to illustrate divine truth", Eric Wright draws vital spiritual lessons from observing life in the creation around him. Through fifty-two devotional readings – one for each week of the year, organized by month and following the four seasons – Eric Wright shows us how to see God's truth in the everyday cycle of life… I highly recommend this book to anyone desiring to see how God reveals himself, and his truth, in the everyday rhythms of life." Rev. David Daniels, www.wisereader.com
"Sound biblical understanding and excellent writing style." Ray Wiseman, biographer, columnist and speaker
"I have not come across a devotional book like Down a Country Road… It flows like good conversation. The descriptive language is colourful and picturesque… I appreciate its biblical accuracy and application." Rev. David Bell, Associate Pastor, Fellowship Baptist Church, Cobourg
"Devotionals from Down a Country Road are interesting, thought-provoking and convicting. Down a Country Road does an excellent job at directing me (the reader), to the scriptures… I really enjoyed the personal approach found in this one as the author bared his soul in a significant way." Lenard Latchford, a supervisor with General Motors
"You have a real talent for writing these devotionals.…a wonderful reminder of God's grace and faithfulness. The prayer at the end is lovely. I prayed it myself and found much comfort in those words." Lori
"This book ties in beautifully with creation . . . well written, interesting, thought-provoking, beautifully illustrated throughout with personal stories well worth the read." Deborah Marling, former Director of Children's Ministries, Cobourg Alliance Church
"There has always been a natural kinship between the lessons of scripture and the lessons of nature. Down a Country Road, has captured many of them imaginatively, artistically and accurately so that the integrity of scripture is maintained throughout." Ludger D. Rienstra, retired pastor and missionary volunteer
"Thought-provoking devotionals that are not preachy or exercises in religion." Frank